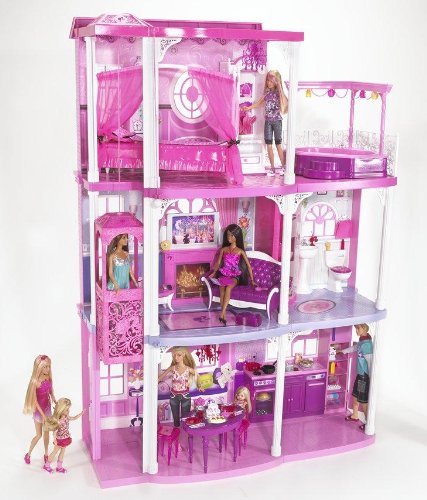 The Barbie Dream Townhouse is something that is sure to get her smiling big when she unwraps it, whether she has been wanting one or doesn't even know about, it will be a huge hit!
Standing nearly three feet tall, it comes with over 50 accessories! Some awesome qualities about this townhouse is that is comes with a moving elevator, realistic plumbing and lights as well as a ringing doorbell.
You know your daughter is going to love the pink personal elevator that really moves with full lights and sounds on each level of the home. After you come through the front door you'll see a light-up chandelier, a dining area and kitchen full of accessories. On the second level there is a living room with an awesome fireplace and a flat screen TV! This house is cooler than ours! And don't even get me started on the bathroom that has real plumbing effects.
The bedroom is definitely something to write home about too with a canopy bed and balcony with some tiki lights set-up outside with the, get this…whirlpool tub. This townhouse makes me want to do some remodeling in my own home!
Let's recap:
– Pink Personal Elevator
– Lights and Sounds on Every Level
– Roaring Fireplace
– Pop-up Flat Screen TV
– Ultra Posh Bathroom
– Light-up Tiki Lights
– Outdoor Whirlpool Tub
The Barbie 3-Story Dream Townhouse is perfect for any young girl who loves to play with dolls, even if she doesn't even know who Barbie is yet…which is probably not the case!
Your daughter is going to be playing for hours with this new toy, creating new Barbie adventures right and left. The Barbie Dream Townhouse has a ton of things for your child to do, from having dinner parties, entertaining and having some fun sleepovers or just relaxing in the tub and by the fire.
This is not your average doll house, this is a Barbie Townhouse and it comes with some pretty brilliant accessories that your daughter will love. Invite over a few friends and you'll be amazed how long they will play with this toy, you can't go wrong with this gift, Christmas or birthday your daughter will be so happy!
The Barbie Dream Townhouse is very popular though so don't wait to buy yours, and you are in luck, the price was reduced recently on Amazon.com so you can now pick one up for $35 less!