Have you been needing a place to keep all of your child's princess treasures (or any toy really!)? A princess toy box is just the place to keep her favorite toys easily within her reach, and yet keep them neat and tidy. The three options below are just what you've been looking for, keep her toys in one perfect place.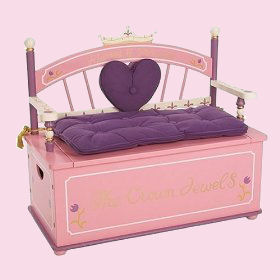 1. Princess Toy Box Bench: Nothing could be more posh than your very own princess bench. She can store all of her princess toy treasures inside and keep them safe. It has a removable padded seat cushion and a slow closing metal safety hinge. It is easy to assemble and is very sturdy, safe enough for even adult to sit upon. You'll have so much fun playing princess with your daughter on this bench you might want one of your own.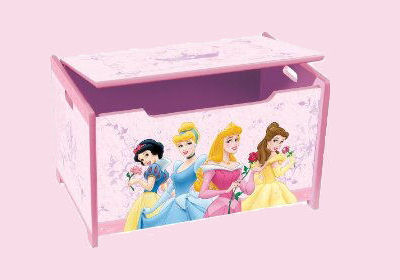 2. Disney Princess Pretty Pink Toy Box: Plenty of room for toys in this box, plus the design will fit any Disney Princess decor. It is recommended for children 24 months to 4 years of age and also has a hinged safety lid. Your little one won't put up any more fuss to put toys away when she has such a cool Princess Toy Box to put her toys into. Also available, if your daughter is into a fairy phase, a Disney Fairies Toy Box. Either option is perfect for your princess.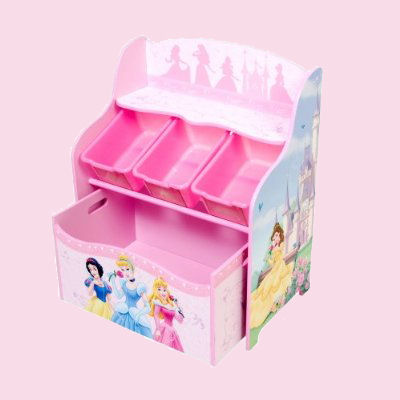 3. Disney Princess 3 Bin Organizer with Roll Out Toy Box in Pretty Pink: If you're looking for a different kind of storage, you might like the option of this roll out toy box. With shelf, bins and box, it is even easier to sort toys and keep things organized in your princess's room. Many parents find this a great place to store dress up clothes, but it can be used to store just about anything your child might want to have at her fingertips.
Any of these princess toy box options will be perfect for your little princess's room. The first option makes a stunning addition at the foot of the bed, while the other two can be put just about anywhere to accent a room and help keep things clean. It won't be nearly as much of a chore for your daughter when she is asked to pick up her toys when she has such a wonderful storage place to keep them all.